To create great user experiences, feedback is key.
Having feedback loops in place benefits everyone within an organization—from product development and customer success to sales and marketing. Collecting continuous feedback helps teams understand what's working and what's not—and ultimately deliver something that users really want.
At Maze, we're a small remote team and still in the early stages of our journey. We try to keep things simple and don't have many rigid processes in place so we can move fast. But we do make sure to stay in touch with our users on a regular basis. In the end, getting frequent feedback helps us make better decisions and deliver value as a company.
Here are some examples of how we collect, analyze, and action feedback—and things you can easily implement too.
Validating product/market fit with a customer survey
It all started with an article. This one to be specific. After joining Maze, our first product manager was inspired to understand our product/market fit, what makes users love Maze, and what we can improve.
With a product/market fit survey, you really get the user's voice, how they speak about the product, what they love, and what the core value for them is. It gives you a lot of information to help you define what strategy to adopt.
Arjen Harris, Head of Product at Maze
Here's the product/market fit survey we sent.
And this was our process:
We segmented our users based on the signup date and recent usage

Then we created a typeform, and set up an email campaign in MailChimp to send the survey

We hit send and waited for the results

After the responses came in, we did a lot of #tagging to group similar responses and analyzed the results

We set up a dedicated Slack channel to review the results in real-time, we shared them via a Loom video with the team on Notion, and we presented the findings in an all-hands meeting
The most important thing we learned is that we have a strong product/market fit, and UI/UX designers who have interacted with Maze are very satisfied. This means we're on the right track!

We also validated that rapid, actionable insights are among the main benefits we provide our users. We learned we need to continue to strengthen this value proposition from a product and marketing perspective.
We also found out that some users want to understand the why behind the data they collect with Maze. This means we have a chance to add more features to improve our product for a wider audience.
Finally, we learned that many respondents haven't used the product a lot. This is a great opportunity to look into our onboarding and product education to help our customers understand the value of Maze better.
In short, the product/market fit survey gave us many valuable insights that we're now using to help inform our product and marketing strategy. The plan is to run this survey on an ongoing basis so we can continue to track our product/market fit as we grow.
Collecting feature requests in a public board
The product/market fit survey gave us a good understanding of what our users value most, but not necessarily any specific solutions or features to build.
To get a pulse of what our users want to see next in Maze, we use Nolt. It's an easy-to-use feedback collection tool where users can add and upvote feature requests. Collecting all requests in one place allows our team to get a general sentiment of what people want and keep an eye on what's most important to our users, as it also lets them upvote their favorite requests.
Do we build everything requested on Nolt?
The short answer is no. The key is prioritizing what to build based on the volume of requests and our strategy. For example, before deciding what to work on, we ask ourselves: Will a particular new feature unlock a new market segment, or will it help current users get more value out of the platform?
At Maze, we review the requests regularly and use them to help inform our product strategy. For instance, we released Team Management and the Figma integration—both highly requested features. The Figma integration helped us reach a new audience while Team Management helped us strengthen our value proposition for larger design teams and organizations.
There are many ways you can collect feature requests, but Nolt has made it easy for us to have everything in one place. And the best part: we don't have to do any manual tagging.
Providing a good customer experience through live-chat and support
Collecting user insights to help inform what we're going to build next is great, but we also need to ensure that our users have a good user experience right now. Those are the table stakes of a business.
For example, if a user contacts us because they are experiencing issues with their CSV export and can't perform their data analysis or a button in the platform doesn't work, we need to address these quickly to avoid frustration.
Our support team helps us flag important issues early so that we can give the quality experience users expect. We use Crisp as our live-chat and support platform and have a tagging system in place to categorize and analyze support issues. These get shared in our support Slack channel or on a bug request board on Notion for the product development team to action.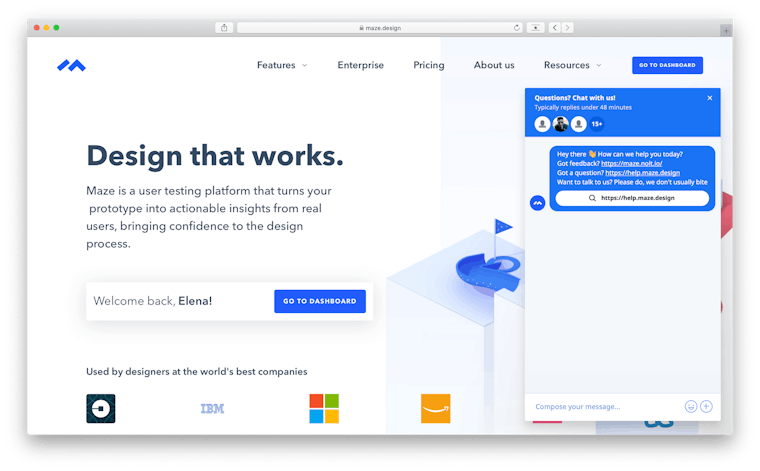 Our live chat is available in-app and on our website
The ultimate goal, of course, is to have a seamless experience. Think iPhone—everything works. Unfortunately, we're not quite there yet, so we need to make sure we have the tools and processes in place to address issues as early as possible. Monitoring support tickets in real-time is the easiest way to do this.
As a developer, I currently do not have a lot of direct interaction with users, but I get to see all of the support tickets coming in, and that helps me understand where the gaps are and what kind of bug backlog we have.
Getting qualitative feedback and insights from our Customer Advisory Board
We collect a lot of quantitative user feedback, such as the requests on Nolt, to help inform our decisions. Still, we realized early on that we wanted a forum in which we could get deeper insights into what our most active customers think of Maze and the user research market in general. This is why our Customer Success team launched our Customer Advisory Board in December 2019.
The Customer Advisory Board gives our top users a chance to share their feedback and requests one-on-one on a monthly basis.
George, Customer Success Lead
A customer advisory board (CAB) is a group of customers that share insights and advice with an organization on a regular basis. It's a great way to get qualitative product feedback from the most engaged customers. Our CAB consists of around 80 of our Enterprise and most active customers. We hop on a one-on-one call every month to have a conversation and ask research questions that will help us improve our product.
Here's how we set up the calls:
We share a design mockup of a new feature the product team is currently working on

We open up the discussion to get feedback on the mockups and address specific questions our team has

We also have other ad-hoc topics from different departments that we would like feedback on, such as marketing messaging

Finally, we give the advisory board member time to address any topics they want to discuss, such as feature requests
The CAB has been a great channel to speak directly with customers and understand their needs better. In our first CAB meeting, for example, a common request was the ability to do moderated testing and record audio and mouse tracking. This insight helped validate the assumption that our customers want to see this feature in Maze.
As with any research method, setting up and maintaining a CAB can be time-consuming, but it's worth the investment. We get direct access to our most active and valuable customers regularly, which helps us shape our product's future together with our most important stakeholders: our users.
"We're lucky we get to share our work with our users, who are usually designers themselves. The meetings with our Customer Advisory Board are an amazing source of information."
Jola, UX Designer & Researcher
Testing Maze with Maze
We use Maze to collect user insights throughout the product development process. As a critical tool in our workflow, Maze gives the product team the data they need to validate their ideas and concepts before they go into development.
Here are some ways we use Maze.
Before we start working on designs and build prototypes, we collect user insights from various sources, e.g., analytics tools, user feedback, and research done with Maze Discovery. All of this data helps us make better product decisions early.
For example, we used Maze Discovery to run a research survey to collect feedback on how users would expect to use an upcoming feature—Conditions. We had a hypothesis that users would add conditions to their blocks after they completed their maze, but not everyone agreed. This lead to an internal debate on how to proceed, so we decided to let our users settle the debate. And we're glad we did.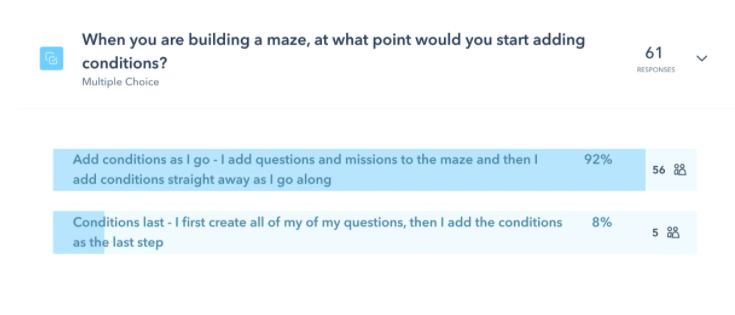 The results showed that users expected to add conditions after adding each individual block. In the end, the insights we collected helped us improve our user experience in the early stages of the build cycle.
Once we're designing and we've created a prototype, we create a usability test in Maze. We don't test everything as we don't have enough resources to test every product update yet. But we generally set up a maze to test the final prototype for bigger features or something we're uncertain about.
We also use Maze to collect quick, anonymous input from within the team. It helps us get a first-round of feedback before it gets sent to users, and this way, we make sure the tests are well-structured.
Once we make adjustments based on the first round of feedback, the team shares it with our Customer Advisory Board. Our product designers like to share prototypes with the CAB because they understand the product well, and they are designers who often know how to give valuable feedback. We try to share something new with the CAB every month to have an ongoing flow of feedback.
Our users are with us from an early stage of the design process, and so they feel involved in the development of the product.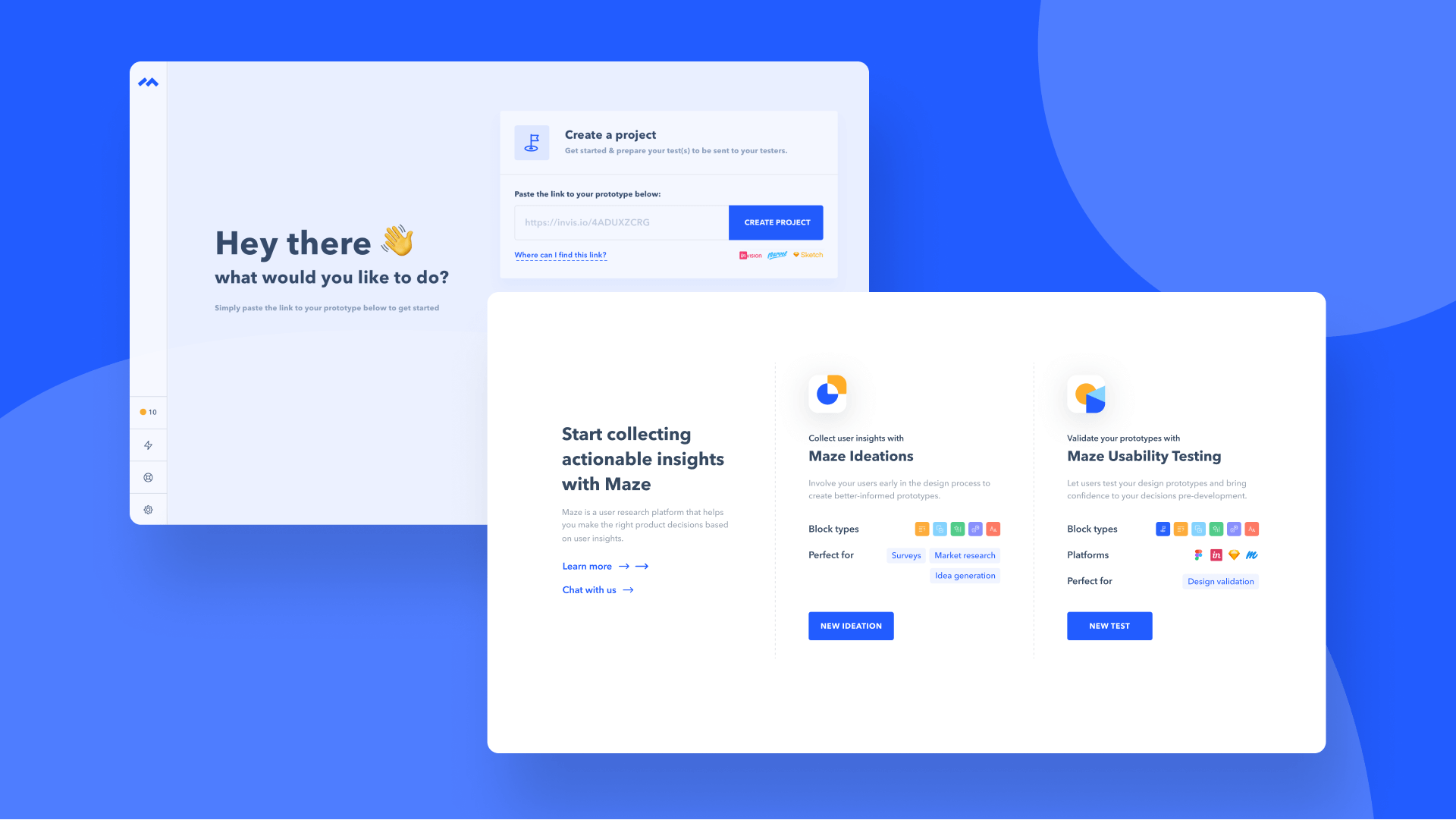 Before and after: New design for creating a Maze project
Here are some tips for testing with Maze from our design team:
Before you start setting up your maze, prepare a plan of action and assumptions you want to test to make sure you get the most out of your research

Use the reports, analyze the results, and really grasp the insights to get the most out of the test and inform your designs

When running a Maze usability test, don't just set missions with your prototype, but also include questions in your maze so you can get richer insights

Set up a maze to run through the prototype yourself to get a different perspective on what you've been working on. It's similar to proofreading something you've written.

Don't be afraid to experiment and test even your craziest ideas
As a bonus, we also use Maze internally for team building activities, like organizing Lunch & Learn sessions or team quizzes. 🙌
Exploring content ideas with a content survey
As a product-led company, a lot of the insights we collect help us build a better product. But we don't just want to build a great product; we want to provide an overall amazing user experience—so every interaction with Maze matters.On the marketing side, for example, we collect user feedback to help inform our content strategy. As we started to invest more in content, we wanted to understand our audience's content consumption better. To do this, we ran a content survey and spoke to a handful of readers one-on-one.
Here's what we learned and why it matters.
We got an overview of the content space in user research and design, which helped us understand where our readers get the information they need to succeed, and how we can provide something of value. We used these insights to identify gaps and guide our content strategy.

We also learned that most of our users wanted more educational content on how to use Maze and how to run usability testing. This helped us understand that our users lack resources on how to conduct user research at scale—and that there's an opportunity for us to create useful, actionable content to help them get the most out of Maze.
Another important lesson from the content survey was that most users weren't aware that we had a blog. This meant we needed to think more strategically about how to attract readers and ensure that our content would become a valuable, go-to resource. And we have. Since then, we've built a content strategy, re-assessed how to get content to our readers, and we launched the new Maze Blog.
We want our users to succeed with Maze, and we believe education is key to that success. This is why we're investing in creating useful, actionable content. As with building a product, to understand what to focus on in content, you need research—and we plan to touch base with our readers regularly to keep a pulse on our content activities.
Bringing it all together
There are many formats, channels, and tools you can use to collect user feedback, and we're just getting started ourselves. The key is turning the feedback we receive into actionable insights so that we can deliver something our users want and like.
At the moment, we're just scratching the surface of what's possible. How do you or your team collect feedback? Let us know on Twitter @mazedesignHQ.