Becoming Typeform's first-ever marketing hire is a pretty big deal.
Before joining the Barcelona-based startup in 2015, Paul Campillo had never worked in marketing. He hadn't even graduated high school. "I actually gave a talk to graduating high school students. And I think they were all shocked," he laughs.
Residing in the Bay area, Paul originally pursued a path in social work. "My job was to work with youth that had been detained and help them get back out into the community."
Social work may appear miles away from the marketing landscape. But the core essence Paul has carried through both is pretty simple: make a difference. This ability to start from empathy has not only shaped Paul's personal journey—it's inspired Typeform's whole company vision.
We spoke with Paul for his thoughts on what it really means to create a meaningful brand, why you should design more than just your product, and how emotion should drive everything you do—in branding and beyond.
Focus on making a difference
"Can I draw something?" Paul asks. The whiteboard behind him starts to fill with overlapping circles. "So, this is your company. This is your competitor. And then this is your customer," he explains, tapping a different circle for each. Gesturing to the area where the 'Company' and 'Customer' circles cross each other, Paul says: "Your value proposition lives here. This is where you compete and where you differentiate."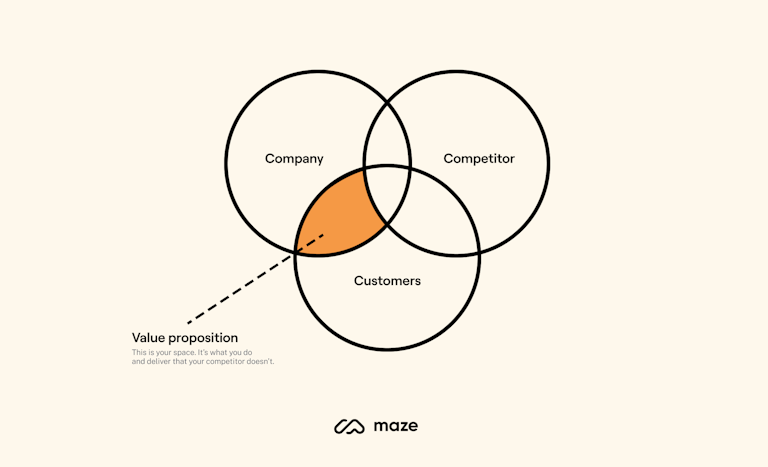 When it came to identifying Typeform's role in this space, Paul noticed that one thing kept coming up in conversations with customers. "I try to talk to customers all the time. And people would say similar things, like, 'I care about my brand,' or 'I care about how I look.'"
While competitors provided the same technical capabilities as Typeform, they were missing something the customer desperately wanted for their forms—beauty. "I started putting all these pieces together and realized—this is it. This is where the value proposition lives." Recognizing that visuals played a big part in Typeform's emotional appeal, they doubled down. Paul clarifies their differentiator might be beautiful design, but this should only be applied in the sense of how it helps elevate the customer. "So when we say beautiful, we're not talking about us—we're talking about you. How do we help you to be more beautiful? How do we help you to be more on brand?"
Glancing to the empty space where 'Company' and 'Competitor' join forces, Paul reveals he doesn't understand a popular obsession among other businesses to be better than competitors. "For whatever reason, they get caught up in the 'better' or 'best' game. It doesn't make any sense. We should be focused on the difference that we make. And then think about how we can extend that to looking different—you know, the visuals and all the other stuff."
Your goal is not to create or to play the 'best' game. 'How are we unique? What uniqueness are we bringing to the market? What special thing are we putting into our product?'

Paul Campillo, Director of Brand at Typeform
While others are checking how close competitors are in the side-view mirror, the concept of 'us vs. them' doesn't hold much power with Paul. A more important distinction for him comes from 'different' vs. 'difference.' Ironically, focusing on the former can leave a lot of businesses blending into the background. So how does Typeform avoid this?
"Realize that not everyone is going to like you. And that's a good thing," says Paul. Once you drop the fear of trying to please everybody and focus on speaking to just one person, that's when you can really make a difference.
One person can always scale. That's the goal. Can we change one person? Can we get one person to think differently?

Paul Campillo, Director of Brand at Typeform
When you focus on the real individual and not the demographic, you start to see your purpose grow organically.
On building a meaningful brand
Rome wasn't built in a day. Very few things of value are. But when it comes to meaningful brands, it's not just a case of building—it's the dedication of maintaining.
Typeform joined the digital world in 2012 when founders David Okuniev and Robert Munoz had a vision to 'make things a little more human'—a message Paul carries close to his chest. "The only reason why I work at Typeform, honestly, is because the founders said to me: 'Hey, we're trying to make the web more human.'" Nine years later, Typeform has almost 400 employees working remotely to create meaningful interactions at scale. But what is it that makes a meaningful interaction? And what is the secret to becoming a meaningful brand?
For Paul, it's quite simple. To create a meaningful brand, you need to create meaningful relationships. And to create meaningful relationships, you need to start with meaningful conversations.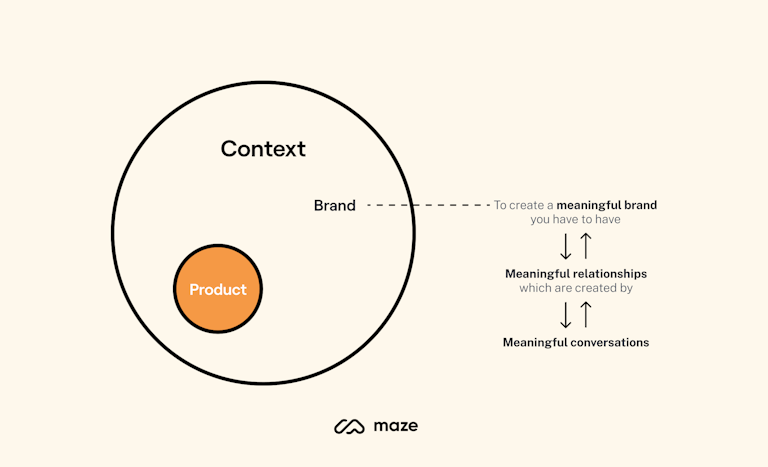 Building a meaningful brand
Having a meaningful conversation might sound easy, but a lot of companies—and individuals—can easily mess up. "Let's say you want to have a conversation about cats, but I start talking about dogs—there we have a problem." Dividing the discussion abruptly like that does little to entice customers to use your product, let alone respect your brand. After all, shouldn't you be meeting customers where they are, rather than the other way around?
Your product sits within a context and it's up to you to determine what that context is.

Paul Campillo, Director of Brand at Typeform
Speaking about Typeform's solution to this, Paul encourages that data be personalized to lean into more specific and relevant conversations. Building a meaningful connection could start with simply asking for a name or location to contextualize the data and create more in-the-moment interactions.
It's those four things: beautiful, relevant, contextual, and personal. If you're able to bring all those elements into the foreground, you can have what's called a meaningful conversation, which is going to build a meaningful relationship, which is going to build a meaningful brand.

Paul Campillo, Director of Brand at Typeform
This framework isn't something Paul believes has to be unique to Typeform, and he's more than happy about that: "I don't mind if everyone takes this framework and uses it in some way, but this is the concept behind it." Some principles might change from business to business, but the core essence can be applied by any brand trying to build meaningful customer relationships.
From product design to customer design
Asked about which industry read has inspired him most, Paul quickly answers: Badass: Making Users Awesome by Kathy Sierra. "I think every product owner, product manager, and content creator should read that book. It's all about creating badass customers. That's the goal."
"Some people might not rate it as highly because it's written like a PowerPoint. But to me, it's brilliant. It really puts the perspective on what we're trying to do." The essence of Badass ties into a core belief of Paul's when it comes to designing products. It's not just about what you want the product to evolve into. It's also who you want your customer to become.
It's not product design, it's customer design. How do we design better customers? And the question that really fuels this is: 'Who do you want your customer to become?'

Paul Campillo, Director of Brand at Typeform
But customer design doesn't come naturally to everyone. Looking back, Paul recalls concerns from colleagues about making assumptions: "I remember saying this to a strategist and he's like, 'isn't that kind of arrogant?'" When faced with remarks like that, Paul draws back on his experience in social work. "I used to think that too. But working with people, they sometimes had a very limited vision of who they could be. And so we had to help them see beyond that, and sometimes hold a vision for them—of them being better.
It's up to us as the creators, architects, designers, and writers to lay out the vision.

Paul Campillo, Director of Brand at Typeform
So what does Paul recommend to create badass customers?
"Have conversations. Talk to people, invite them in, and open your mind a little more about what they could mean for your business." Typeform has become pretty good at reaching out, but it wasn't always hardwired into the company's DNA. Paul recalls a time when speaking with customers wasn't front of mind. "When shaping up our Jobs To Be Done, I'm not saying we didn't have some data on what people were doing. But what we really needed was to sit down and have core discussions around what their jobs were."
Paul began to jump into customer discussions and made a case for other teams to follow. "I think at every level in your company, it's super critical," he remarks. Once they did, it became easier to pick up on patterns of what customers actually wanted to achieve—and what they hoped they could achieve. Paul took note of functional jobs, but realized emotional jobs were also in the forefront of customers' minds.
"I wasn't using the term social jobs at the time. But now it's clear as day that's what it was," he says. "People don't want to just feel or change their emotional state. They also want to change their status." This status change could be customers wanting to be viewed as more professional to their colleagues, or as a great designer when sending out a typeform to their own networks. Typeform had the power to help make that change. And it all started with a conversation to work that out.
When you listen deeply, you can ask better questions. You can ask questions no one else would think to ask because you're coming at a very intuitive level. And really, it comes down to one thing—how much do you care?

Paul Campillo , Director of Brand at Typeform
It's also crucial to make sure you listen to what your customer is saying—a skill Paul thinks has contributed to success across all areas of life.
It starts with you
Collaborating deeply with the people who use your product can bring some surprising opportunities.
Not only can the best ideas come from outside, the best people often do too. And that can help create some unique partnerships. Creating opportunities for conversation, be it online or offline, sets up a strong pipeline for talent that may have otherwise gone undetected. "You don't know who's out there—I mean, I'm out there," Paul jokes.
It's important for people to have an open mind and realize some of the best ideas are not going to come from inside your company—they can come from outside.

Paul Campillo, Director of Brand at Typeform
But he's right—job adverts outlining painfully specific skill sets dilute company culture. Businesses shouldn't force people inside a pre-set mould. They should be re-setting the mould every single time.
"I had nothing to do with tech and I think this is where we miss out on diversity," Paul says of his own experience with hiring in the tech industry.
Paul hopes to be an example of how innovative mindsets and different approaches can overwrite experience in the field. "To me, cultural change is like the thing I care about most," he says. "And if I'm the one that inspires other people to do that, I'm happy to be that person."
I want to be the change I want to see in the world, to use the Gandhi quote. It's so cliché, but at the same time, it's real. And I think anyone can bring it to life in their own domain.

Paul Campillo, Director of Brand at Typeform
With every meaningful interaction, no matter how big or small, we can all make a difference. And real change can begin to happen.