15 Best usability testing tools for better UX
It's common to presume all usability testing platforms offer the same usability testing functionality, however not all research tools are equal. Usability testing tools vary in price, features, and research methods.
Finding the right tool to help evaluate usability is just as important as assessing usability in the first place. Usability tools simplify how you recruit users, streamline the usability testing process, and provide a window into how people experience your product. So, before you dive into testing, check out the top 15 usability testing tools to consider.
Types of usability testing
Quantitative or qualitative: Quantitative research gives you usability results via numbers and statistics, while qualitative research is all about words and meaning. It gives you the 'why' behind the numbers.

Moderated or unmoderated:

Moderated testing refers to the presence of a researcher during the test—they may instruct the participant or ask them questions. Unmoderated usability testing is when the researcher is not there.

Remote or in-person:

Remote usability testing takes place virtually, with researchers and participants in different locations. Meanwhile, in-person testing takes place in the same location. You can run usability tests in-person or remotely without specialized software, but using a dedicated usability testing tool simplifies reporting and decision-making.
Pro tip ✨
Ask your team about the type of research they run the most so you can align your tool to these methods and objectives. You'll likely find valuable feedback on how to simplify their work—for instance, your team might be lacking quantitative data because their tool is limited to user interviews.
15 Best usability testing tools for user-centric results
Before we get into the details of the options out there, here's our shortlist:
Maze

Lookback

UserTesting

Optimal Workshop

UsabilityHub

Loop11

Userfeel

Trymata

Hotjar

UserZoom

Qualaroo

GetFeedback

CrazyEgg

Userlytics

Userbrain
1. Maze: Best for usability testing and continuous product discovery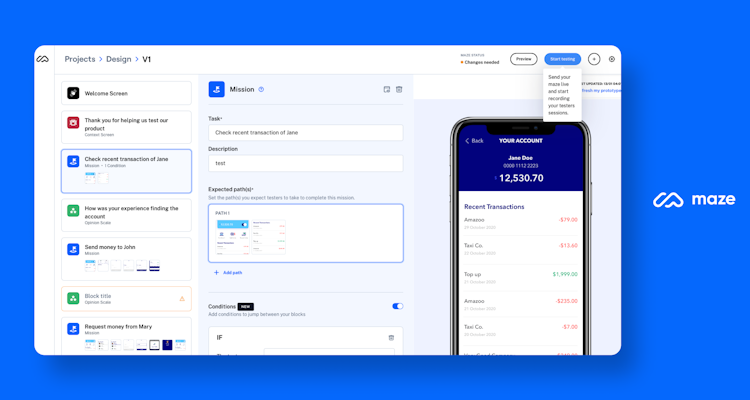 Maze is a continuous product discovery platform that empowers product teams to collect and consume user insights. It's ideal for testing at each stage of the design process—and even after you've launched your tool, with Live Website Testing.
Maze offers integrations with Figma, Adobe XD, InVision, and Sketch so your team can import an existing prototype from their preferred design tool. The platform includes pre-made templates to get you started and help your team run in-depth quantitative and qualitative usability tests that research participants find easy to access.
You'll also be able to auto-generate a user-friendly usability test report to share with anyone on your team through a link or PDF. This instant reporting functionality means your team won't have to spend hours finding key usability metrics like completion rates, misclick rates, or time spent.
The free plan allows you to review up to 300 responses per year. Paid plans start at $75/month for 3 seats and 1,800 viewable responses per year. Maze also offers an Enterprise plan to suit your organizational needs.
2. Lookback: Best for screen recording and collaborative insights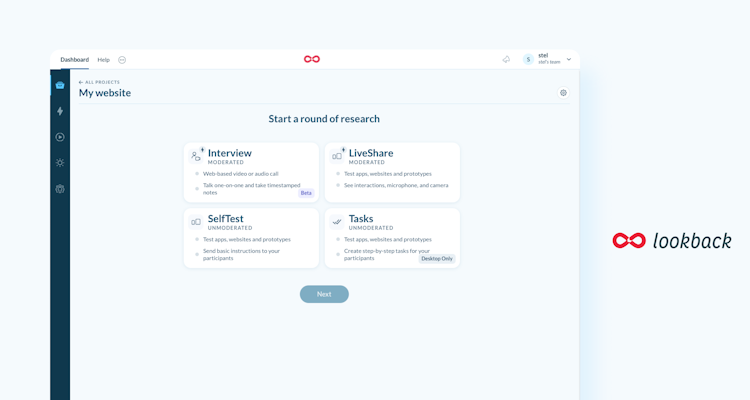 Lookback is a user experience (UX) screen recording tool for designers and product managers who want to see how users interact with their applications. Lookback's testing tools allow your team to see what the users see and catch their reactions in real time—in a recording. Lookback promotes team collaboration as researchers can invite others from the product team to view the test, leave comments, and tag others on an internal hub—without disrupting the participant's progress.
Screen recording:

Put yourself in the users' shoes and see how they completed your tasks

Live sharing:

Collaborate and comment on live interviews without interrupting the session

Analytics:

Review the most relevant qualitative customers' insights on a centralized dashboard

Save all recordings in the player:

Ask your team to tag each interview so anyone can log in and rewatch any relevant session
Lookback offers a 60-day free trial on all plans after you've signed up for an account. Pricing for team plans starts at $149/month with limited sessions but unlimited collaborators.
3. UserTesting: Best for moderated user tests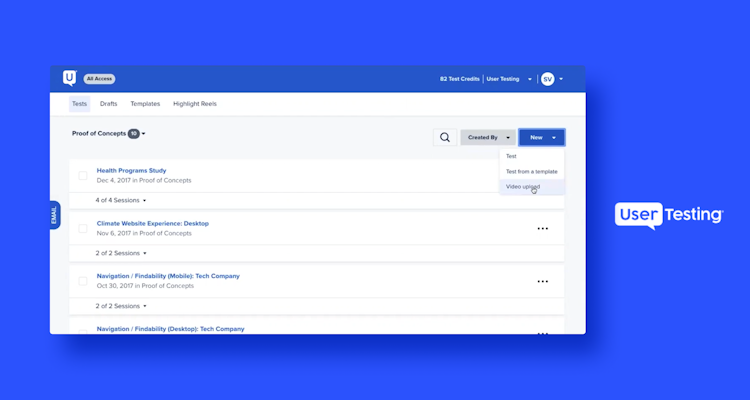 UserTesting offers customer experience (CX) solutions for designers, product managers, marketers, and executives. It lets your team see, hear, and talk to customers as they interact with websites, applications, or prototypes in moderated testing sessions.
While the platform offers a mix of moderated and unmoderated testing solutions, its main focus is user interviews. UserTesting has one of the largest participant pools on the market—but you do pay extra to test your tool on pre-screened and qualified users.
Card sorting, tree testing, usability testing, and prototype testing:

So your team can run a variety of tests using the same platform

Template library:

To shorten the time your team spends creating each test

Quick Answers:

Recruit from the UserTesting panel and get answers to your tests in hours

Sentiment analysis:

This automated testing tool uses AI to simplify the reporting process and identify repeated pain points

Human Insights platform:

Allows your team to visualize data, read and highlight video transcripts, and get an automated summary of insights
Pricing
UserTesting doesn't publicly share costs, but users have reported prices starting at $15,000 per seat per year.
4. Optimal Workshop: Best for basic usability testing methods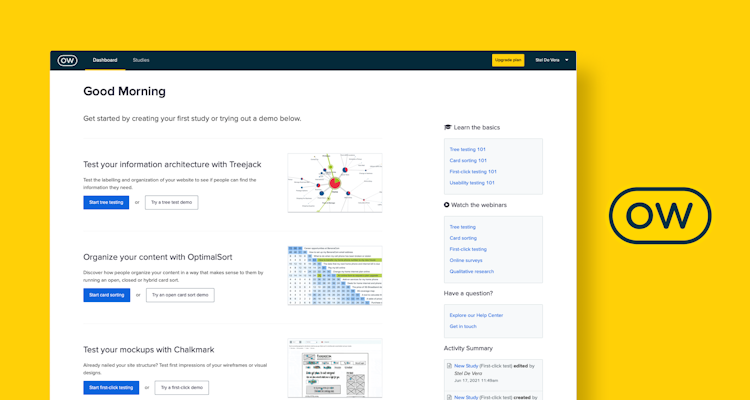 Optimal Workshop offers usability testing functionality limited to task completion and moderated sessions. Your team can use Optimal Workshop to test information architecture (IA) and create tasks for users to complete. Its feature set includes tools for card sorting, tree testing, and first-click testing.
Card sorting, tree testing, online surveys, and first-click testing:

To test your platform in multiple ways and spot usability or UX issues

Qualitative research:

Paint a full picture of how your users feel about your product and gather both qualitative and quantitative data

Automated analysis:

Improve your team's productivity by giving them access to a tool that automates data analysis
The free plan lets you explore all the functions of Optimal Workshop tools with sessions and template limitations. Paid plans start at $208 per user/month and come with a two-month free trial.
5. UsabilityHub: Best for pay-per-answer remote research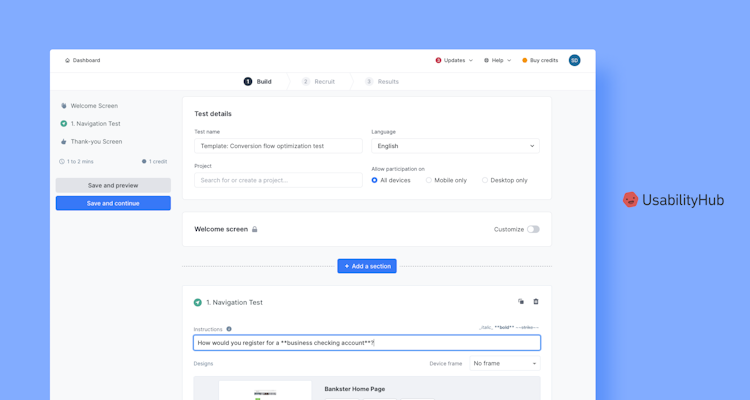 UsabilityHub is a remote user research platform that allows teams to run different types of tests and identify usability issues. The UsabilityHub platform is best known for its range of first-click tests, design surveys, preference tests, and five-second tests. It also has a built-in participants panel with over 170,000 testers available on-demand, at a pay-per-answer price. Alternatively, researchers can invite existing users to participate in the test.
Surveys, five-second, first-clicks, prototype, or preference tests:

Run multiple unmoderated and moderated tests

Design surveys:

Ask questions regarding your design to identify specific issues with your visuals

Unlimited participants:

You can recruit as many participants as you like from your own audience—or pay extra to get access to the UsabilityHub participant panel.

Reporting:

Includes click visualizations, open text analysis, and task duration metrics
You can run tests up to two minutes for free, or upgrade to paid plans starting from $75/month for three seats.
6. Loop11: A good usability testing alternative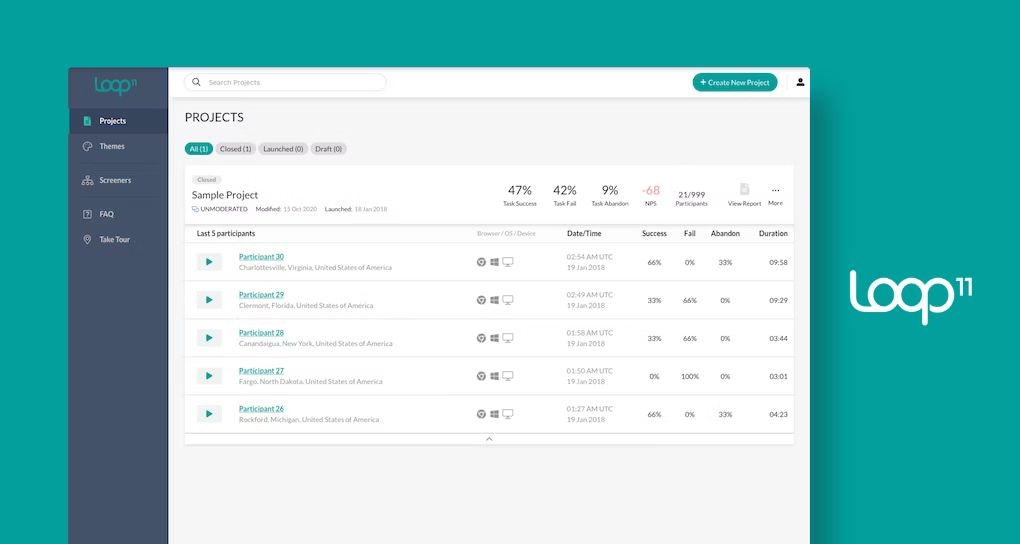 Loop11 is another prominent online usability tool that allows you to run website usability testing, A/B testing, and prototype testing. It uses GPT-4 to create AI-powered summaries, audio transcripts, and reports. Loop11 allows your team to combine both tasks and questions in tests for a mix of quantitative and qualitative results. It also offers a range of video, audio, and screen recording features, making it suited for unmoderated usability testing. Additionally, Loop11 also offers a pool of participants to recruit from.
A/B testing, prototype testing, competitive benchmarking, true intent studies, and IA:

Utilize multiple different testing methods for qualitative and quantitative data

Screen recording:

Get your team to see what your user sees and does on your platform

AI-powered insights:

If you're happy leaving the analytics to AI, Loop11 boasts AI-powered insights to increase efficiency
Pricing ranges from $199 to $599/month. All plans include a 14-day free trial, and users can choose to subscribe for one month at a time or access a 10% discount with an annual subscription.
7. Userfeel: Best for sporadic testing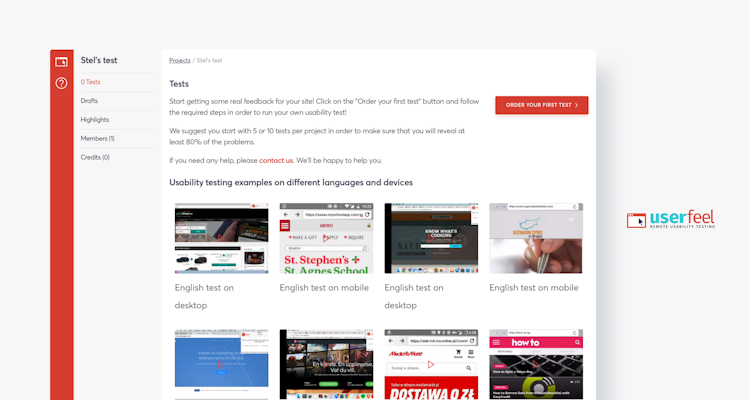 Userfeel is a usability testing tool that's ideal if you aren't wanting to conduct regular usability tests, as you don't need to pay for a monthly subscription—you can simply pay when needed. Of course, this does mean it can add up without you noticing. Userfeel allows your team to set up a list of tasks for users to complete on your website, define the target audience, and then collect recorded videos of users.
Transcriptions:

Shorten the time your team spends rewatching live interviews

Unlimited screening questions:

Encourage your team to ask as many screeners as needed so you get users that truly fit your customer's persona

Highlight reels:

Your team will be able to create a short video using the most relevant clips so you can rewatch it and catch the user's sentiment

User test guarantee:

Get a free replacement if you consider a user was unfit for your tests
Userfeel charges per test length and type. Its prices start at $30/hour-long unmoderated session with current users. Prices go up to $180/hour for moderated or unmoderated sessions with a user from the Userfeel panel.
8. Trymata: Best for testing your customer's journey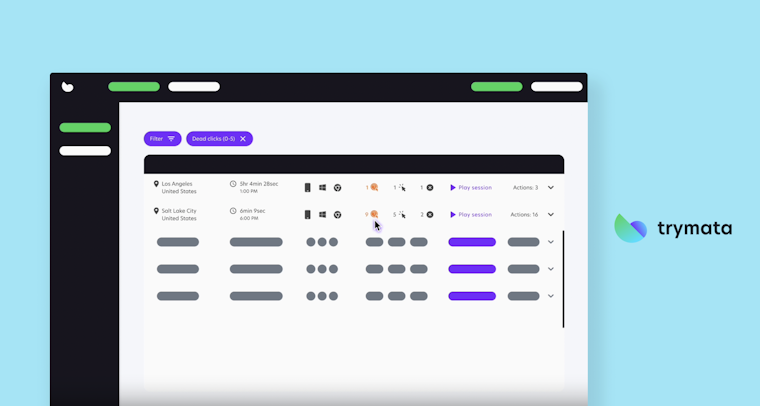 Trymata (formerly TryMyUI) allows you to run remote usability tests and gain user insights to inform your product, marketing, e-commerce, startup, or agency strategy—and build products your users will enjoy. It lets you run live product analytics to test your customer's journey, and you can conduct unmoderated tests then watch the recording to identify user frustrations.
Test prototypes, live websites, or mobile apps:

Conduct usability testing at any stage or device and improve your SUS

Recruit from its panel:

Access Trymata's pre-screened participant's panel

Create and upload custom NDAs to protect your brand:

Avoid information leaks, by writing personalized NDAs for participants to sign before testing

Collaboration tools:

Use highlight reels, invite multiple researchers to work on projects, and leave video annotations to simplify remote team collaboration
Trymata's usability testing plans start at $333/month. It allows for two seats and comes with 120 yearly panel credits.
9. Hotjar: Best for website user behavior analytics
Hotjar helps measure the usability of a website by recording real user behavior through clicks and mouse tracking—and is well known for its live heatmap recording functionality. Additional features include session recordings, conversion funnel analysis, as well as the collection of user feedback via forms and surveys.
Heatmaps:

See the hot spots where users are spending the most time on your site and the colder areas that aren't getting much love

Screen and clicks recording:

Spot where your visitors click and what catches their eye

Capture feedback from real users:

Use Hotjar's in-app pop-ups to ask real visitors for feedback and update your design and UX

Host moderated user testing interviews:

Pay for Hotjar engage to connect with users face-to-face and humanize your quantitative data
Hotjar offers four different packages with plans available at multiple price points—ranging from $32/month to upwards of $9448/month depending on your chosen features.
Honorable mentions: Usability testing tools
The usability testing software market is vast. So, if you're still undecided, check out these six additional tools that didn't quite make our shortlist. As far as we're concerned, they're stronger for other testing methods—not just usability testing—but they still deserve an honorable mention:
10. UserZoom: Best for mix-and-match-ing UX research tools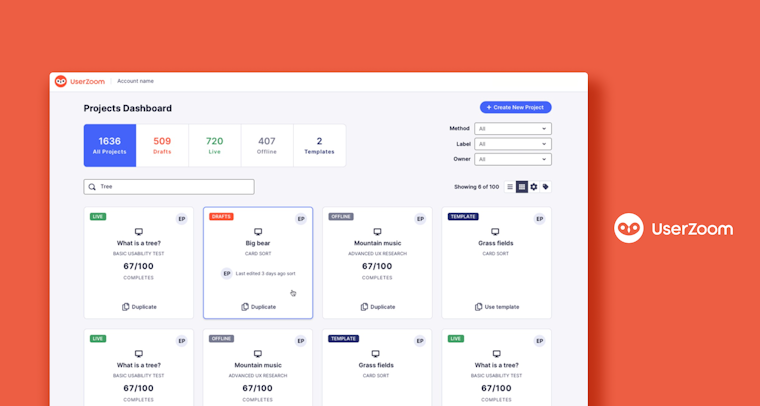 This UX research tool was recently acquired by UserTesting and is a strong option for running all kinds of UX tests. While it can conduct moderated and unmoderated tests, it's more solid as a quantitative, unmoderated tool. With UserZoom, teams have access to a virtual observation room. Plus, UX test results come with a QXscore that's measured by mixing: NPS + appearance + trust + ease of use.
11. Qualaroo: Best for in-app feedback collection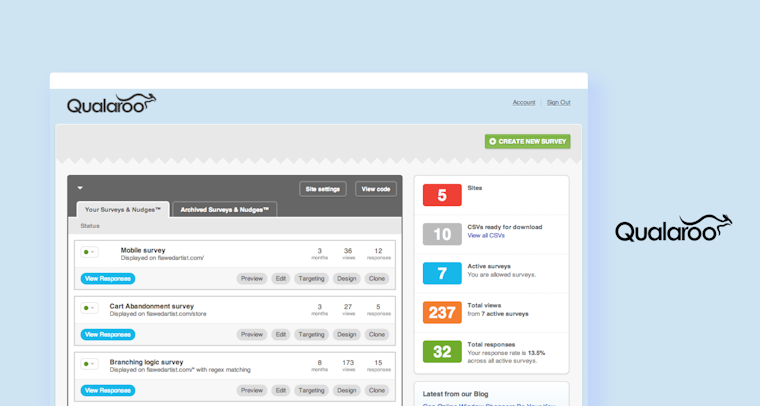 This isn't a dedicated usability testing tool, but Qualaroo allows you to add feedback surveys as website prompts to test your UX, gain product information, and improve your conversion rate. With Qualaroo you can use AI sentiment analysis and access a large survey template bank.
12. GetFeedback: Best for segmenting your user database based on feedback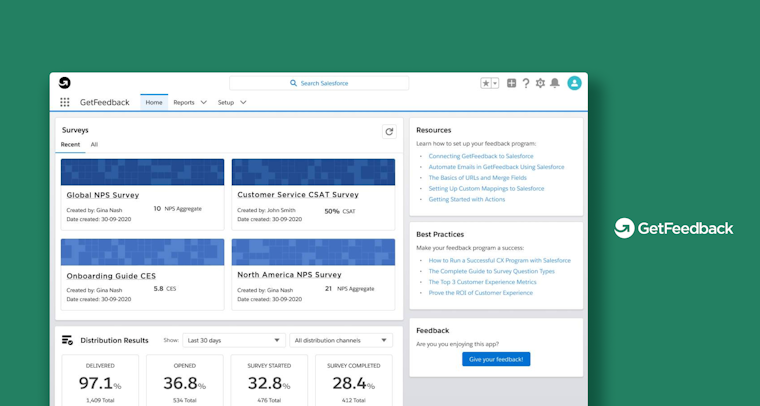 GetFeedback (formerly Usabilla) allows you to collect in-app feedback. It integrates with your Salesforce database so you can improve your segmentation game. Meaning, you can hold all of your users' information and test answers in one place. If you use Maze, you can do this easily using its Reach feature.
13. Crazy Egg: Best for heatmaps on a budget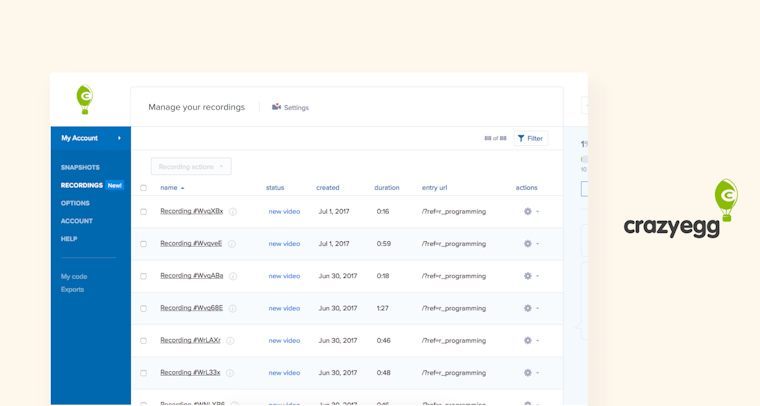 Similar to Hotjar, Crazy Egg allows you to see how your users navigate your website. Access heatmaps, conduct A/B tests, review their session recordings, and launch surveys. Crazy Egg gives you quantitative insights in the form of scrollmaps, confetti, and heatmaps reports. And, it lets you conduct A/B tests.
14. Userlytics: Best for user research from a large panel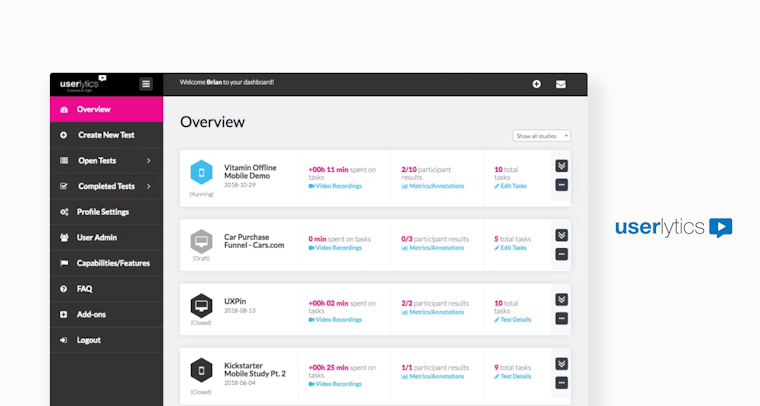 Get qualitative and quantitative insights from a panel of 2,000,000 users. Test your website for usability, conduct prototype testing, and evaluate your IA with Userlytics. Userlytics lets you run moderated sessions and comes with a think aloud feature so you can catch users' thoughts as they perform your unmoderated tests.
15. Userbrain: Best for recurring tests
Userbrain is a prototype testing tool that simplifies research. It allows you to test Figma, Sketch, InVision, Axure, Framer, and AdobeXD prototypes. You can either invite your own users or access the Userbrain pool of participants of over 100,000 pre-screened users. Userbrain allows you to schedule recurrent tests and gives you presentation-ready metrics reports.
If you're conducting user research, you might also want to check out our comprehensive list of the top UX research tools.
Usability testing tools: Which one is the best for you?
Skipping usability testing is a fast way to misunderstand what your users really want. To really simplify your testing process and make your product user-centric, you need a reliable, flexible usability testing tool.
There are many usability testing tools on the market that meet different use cases and offer specific methods, functionalities, and price points. Consider involving your product team in the decision-making process so you choose one that meets their needs—and that they're excited to start gathering insights with!
Lastly, if you want a tool with extensive unmoderated usability testing capabilities that comes at an accessible price, we suggest you try Maze. Maze is a continuous discovery platform that empowers your team to seek users' insights early and often. Our tests—we call them mazes— are browser-based, quick to set up, and easy to share. Plus, if you ever need to moderate the sessions, you can always use Maze in tandem with a video conferencing platform like Zoom or Google Meet.
Frequently asked questions about usability testing tools
How do you test usability?

You can test usability in moderated or unmoderated sessions, remotely or in person by following these steps:

Define your test goals

Outline the logistics, i.e. when it'll happen, who's your audience, where will it take place

Choose the testing tool

Determine the format, i.e. moderated or unmoderated, in-person or remote, quantitative or qualitative

Limit the audience size

Write test tasks

Decide evaluation metrics

Run the usability test

Create a usability report with results

Determine action steps
What is a usability testing tool?

A usability testing tool is a software solution that provides you with features to check if your design is usable and intuitive enough for users to accomplish their goals. A wireframe and usability testing tool allows you to see how people can complete a given task on your prototype, website, or application. These tools share areas of improvement and flag potential usability problems based on user feedback.
What are the three types of usability tests?

The three types of usability tests are:

Quantitative vs. Qualitative

Moderated vs. Unmoderated

Remote vs. In-person
What tools do you use to do manual usability testing?

To do manual usability testing, you'll need these tools:

A note-taking app (or a pen and paper)

Video conferencing software (or a video camera and audio recorder to record the session)

Your app or website