Your products directly impact people's lives: they can help someone save for their first home, manage their retirement fund, or even start a new business. So, when your products aren't user-centered, it's not just a missed opportunity for you—it's a disruption in your customers' financial journey.
By addressing usability issues early on, you're ensuring that deeply-personal journey stays smooth, with an intuitive product your customers can rely on. Not only does this benefit customers, it's also great news for your KPIs—especially customer acquisition, retention, and ROI.
In this article, we'll explore why usability testing in the financial service industry is crucial for fostering customer loyalty and outshining the competition. We'll also share some learnings from industry experts on how they've used usability testing to ensure growth in a fiercely competitive market.
Why is usability testing crucial for financial services?
When delivering a product that helps users make decisions about their money, you need to take the time to understand their motivations, concerns, and aspirations.
Consider the daily financial decisions your users make—from simple transactions like checking account balances, transferring funds, or paying bills, to more complex tasks like applying for a mortgage, investing in stocks, or preparing for retirement. Each of these tasks comes with its own user needs and challenges. It's important to run usability testing for two reasons: the high-stakes nature of financial decisions, and the heavily regulated environment of the industry.
But that's just the tip of the iceberg—let's get into why usability testing is crucial for financial services:
1. Enhance the user experience and build loyalty
Money is an emotive, complex topic. As Rob Vanasco, User Researcher at Region's Bank, says "Most people spend a good portion of their lives thinking about money, trying to figure out how to make it and how to save it." In the US alone, 65% of adults said money is a significant source of stress. Rob notes, "Any added frustration because of poor-performing mobile apps and websites only adds to that stress".
With usability testing, daunting tasks like applying for a mortgage can become a simple, more accessible experience. It can highlight where users struggle and help you exceed their expectations with your solution. For example, you might discover that your users desire personalized investment recommendations based on their financial goals and risk tolerance.
When you iterate based on user feedback, you're creating a user experience (UX) that isn't only more efficient and intuitive, but also preempts user needs and empowers them to manage their finances confidently. You foster a strong customer relationship and drive customer satisfaction, loyalty, and advocacy.
2. Keep your product relevant throughout its lifecycle
Usability testing is an iterative process—it can offer invaluable product insights, whether you're at the early stage of developing a new product, or refining new features in an existing one.
Here's how different research methods can help you identify and address pain points at each product development stage:
Running

early-stage

prototype testing with lo-fi wireframes or mockups allows you to observe how users interact with your product design and navigational elements, before committing to full-scale development. Techniques like tree testing or card sorting can also help refine the information architecture (IA).
Once you move into the

development stage

and have functional prototypes or minimum viable products (MVPs), usability testing focuses on evaluating specific features and functionalities. This can include task-based scenarios to assess how well users can accomplish actions within your product.
Running live website testing

post-launch

can measure usability metrics like page views, bounce rates, time on page, and click-through rates. Plus, integrating In-Product Prompts for targeted surveys or feedback can help gather quantitative and qualitative data so you can prioritize improvements based on real user data.
3. Extend your customer base with improved accessibility
Usability testing can help you understand how people with different needs and abilities interact with your product, and maintain compliance with accessibility standards.
It's important that people with visual or hearing impairments, motor disabilities, or cognitive differences can access your services—so incorporate testing methods that will investigate challenges faced by users who rely on assistive technologies like screen readers, magnifiers, or keyboard navigation.
For example, you might discover your website lacks alternative text for images, making it inaccessible to users with a visual impairment. Making an adjustment to ensure compatibility with screen readers would significantly improve UX and make your services more accessible to an even wider user base.
4. Avoid churn with user diversity and demographics
The quality of your testing results directly impacts the reliability and validity of the feedback and data you gather, so be sure to recruit test participants that represent your target audience. If you need support with this, a user research platform like Maze can guarantee high-quality responses from a pre-screened Participant Panel.
You should also consider the level of familiarity test participants have with financial services and technology. Testing with both novice and experienced users allows you to capture insights from different perspectives and maximize your future user base.
Novice users can help uncover usability issues and barriers for those less familiar with financial concepts or technology, while experienced users can provide valuable feedback based on their experience and expertise.
Product tip ✨
Use Reach from Maze to send targeted campaigns to existing customers in your CRM, or previous test participants. Plus, customize with personalized messaging, email domain, and signatures.
5. Reduce bias by validating your assumptions
It's normal to have a set of assumptions when developing financial service products—maybe your team assumes users need more education on one topic over another, or perhaps they expect customers to prefer a certain new feature.
These beliefs or hypotheses about user behavior, preferences, or needs guide your decision-making process. But incorrect assumptions and cognitive biases can creep in and lead to flawed product designs and missed opportunities.
For example, say you presume users prioritize speed and convenience when performing financial transactions. Through usability testing, you observe that users prioritize data security over speed. This prompts a reassessment of your assumptions and impacts speed vs. security priorities when designing a new feature. By developing according to your findings, you'll gain a competitive advantage with a product that actually speaks to your target audience's needs.
To get that accurate data, you need to ask the right questions. As Rob says, participants should feel they have a legitimate reason to complete a task. So, create specific user research scenarios like:
Imagine you want a new credit card, and you decide to check your bank's website to see what they offer

You've received a notification about a suspicious transaction on your credit card. Can you show me how you would navigate the mobile app to report and resolve this issue?

Pretend you're a small business owner looking to apply for a business loan—how would you find information about loan options and complete the application process?
Early on, I made too many mistakes when setting up a user test and wasted participants' time. Sometimes, it takes a few tries to tweak the instructions so people understand what you are asking them to do… Even flushing out spelling and grammar errors you missed early on—those little things can make a big difference in the quality of your user test.
6. Justify decisions and get stakeholder buy-in
Usability testing can provide stakeholders with tangible evidence of user preferences and behaviors, which makes soliciting buy-in for product decisions easier—especially if you use a research tool that can generate digestible, customizable reports of results.
Here's how to encourage buy-in:
Educate stakeholders

: Explain how usability testing helps uncover customer insights, improve UX, reduce risks, and align with industry regulations

Involve stakeholders early:

Foster a sense of ownership and ensure stakeholders' perspectives and priorities are considered from the get-go

Provide visual insights

: Use visual insights to highlight key UX issues, user pain points, and opportunities for improvement—you can connect the insights to the overall goals and objectives of your organization
What's the ROI of usability testing for financial products?
According to Forrester, every dollar spent on user research returns $100. Investing in usability testing isn't just about improving the user experience; it's about positively impacting your bottom line. If your stakeholders need more persuasion, here are some stats to consider:
If you're a CX leader, you're 3x more likely to exceed business goals
Design maturity could impact your business performance
McKinsey found that companies scoring in the top quartile on the McKinsey design index (MDI) saw revenue growth of 32% and total returns to shareholders (TRS) of 56% compared to industry peers during the same timeframe.
The McKinsey design index (MDI) is a framework used to measure design maturity and the impact of design on business performance. With usability testing, you can ensure that your designs are always informed by your users, driving positive results for your company. As the report says, "good design matters"—regardless of your industry.
Investing in UX could reduce your development cycle by up to 50%
According to Interaction Design Foundation, companies can reduce development cycles by 33-50% when they invest in UX during the concept stage. Let's face it, it's much more expensive to fix issues later rather than avoid developing them into your product in the first place. Plus, shortening the development cycle accelerates the time to market and gives you more opportunities to capitalize on market opportunities and gain a competitive edge.
Good UX can increase your conversion rates by up to 400%
Having good UI design can increase conversion rates by up to 200%, says Forrester. Good UX (i.e. the overall experience of the product rather than just the visual elements) can almost double that—raising conversion rates up to 400%. In summary, investing in the right UI/UX design tools could have major ROI for your business.
70% of Gen Z expect your site to know what they want
70% of Gen Z say they expect websites to know what they want intuitively. To meet the expectations of this tech-savvy generation, businesses need to invest in user-centered design practices, and start employing intelligent algorithms and data-driven personalization. Understanding what your users want, and how they expect your individual product to work, is the first step to putting this into action.
32% of users will drop your product after one bad experience
A PWC study found that nearly 32% of people would stop interacting with a brand after one bad experience. So when someone asks if UX research or usability is 'worth the investment', there's a definitive answer. Losing customers due to poor experiences means a loss of potential revenue and missed opportunities for repeat business and referrals.
Examples of successful usability testing in financial organizations
Whether you're well-established in the industry, or a startup exploring the potential of a new financial service, these real-world examples of usability testing in action can help inspire and inform your approach.
1. Bpifrance
Bpifrance, a public sector investment bank, wanted to launch a new lending offer for SMBs. But first, it needed to reduce complexity and remove the guesswork when it came to understanding customer needs. This would enable faster iteration and scalable continuous discovery across its product teams.
So, Bpifrance reached out to Maze for help. We focused on introducing a continuous learning loop across the organization, enabling 20+ product teams to gather regular feedback on product iterations. This resulted in:
3x faster time-to-launch compared to previous projects

2x faster time-to-insights through the Maze platform

30% boost in decision-making through executive buy-in and sponsorship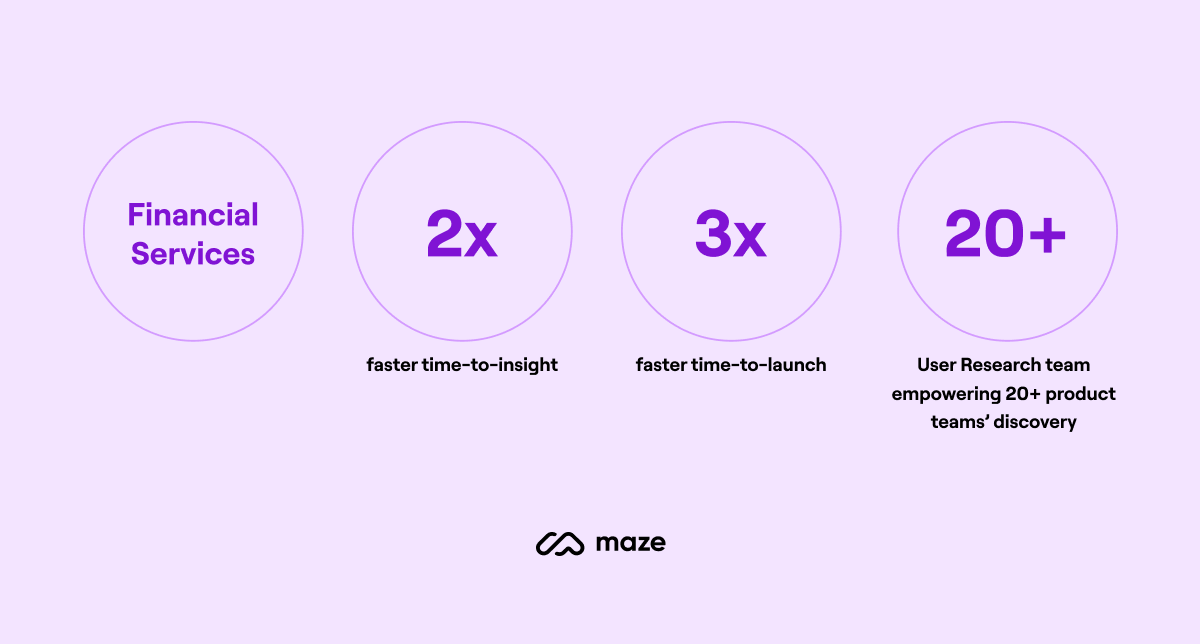 Read the full story
Get all the details of how Bpifrance used Maze to increase its research efficiency, de-risk digital investments, and halve time-to-insight. Read the case study now.
2. Garanti BBVA
Garanti BBVA, a Turkish bank, wanted to make a series of rapid improvements. It needed to focus on debt restructuring for personal loans and improvisations in the skip-trace process, to handle all customers that collections have been unable to contact.
The organization implemented immediate restructuring for personal loans over the phone, without any branch visit, and tailored the skip-trace process to the specific type/reason of non-contact—this enabled additional automation, improving efficiency, and:
46% improvement in debt restructuring default rates

80% reduction in inbound abandon rates

Improved technology and analytics usage and staff allocation
3. TBC Bank
TBC bank, a Georgian financial institution, wanted to provide a multi-channel experience and validate new kiosk designs before the development stage. It wanted to ensure that users could cash in through the kiosks.
The bank ran lab-based usability testing with participants. A touchscreen mock-up of the kiosk was placed in the testing lab and participants were given a TBC debit card. With their results, TBC created a:
User-friendly interface

Seamless cash-in experience

Enhanced multi-channel experience

Valuable user feedback and insights

Validation of design decisions
Ready to empower your users?
The ROI for usability testing in the financial services sector is more than just a number—it's a testament to the indispensable role of usability testing, helping you create a product that's:
Intuitive

, leading to increased customer loyalty and brand reputation

User-friendly

, leading to decreased customer support costs

Efficient

, contributing to shorter development cycles and lower costs

Engaging

, resulting in increased sales and conversions
The effectiveness of usability testing depends on how you empower your team with the right tools and resources. When you implement a usability testing platform like Maze, you can send targeted recruitment campaigns, run prototype and live website testing, and quickly generate automated reports—all in one intuitive platform.
Not sure if we're for you? Learn how Maze empowers teams to create exceptional digital experiences that win customer trust and loyalty.