Ash Oliver is the first Design Advocate at Maze, creating the Design Advocate function and establishing the first community program. Ash is a UX Designer assisting product teams in uncovering the power of integrative design, continuous research, and adopting an agile experimentation culture. His unconventional background blends business acumen with design thinking in order to solve problems with and for product users.
The age-old question: "What do you do?"
How many of us have tried explaining what we do for work and when met with puzzled reactions, resort to summing it up as "I work in tech…"? Despite the industry's reputation for wacky titles, a Design Advocate may not be one you've come across often, but it's far from fad.
As the first Design Advocate at Maze, I'll share an inside look at the role and its origins, why it's a critical element in shaping a human-centered approach to product development, and the thinking behind our investment in community-led growth.
The young origins of an Advocate
You might not be as unfamiliar with the Advocate position as you'd first suspect. Maybe you've attended a conference with Developer Advocates as keynote speakers, or learned interface design skills from Figma's Designer Advocates.
Advocates are domain specialists that are intimately connected to and participate within communities of common practice. These Advocates share common skills, work, and interests within these communities, but are also deeply invested in the collective motivations of the group. As an example, let's take this definition from WhiteSource of a developer advocate:
"A developer advocate is someone who represents developers interests and helps them use their tools more productively. They engage with developer communities and establish reliable feedback loops with users to ensure programmers get the information they need to improve their work."
As you can see, an advocate role might include a developer in relation to other developers in support of the advancement of development as a practice and profession.
Developer : Developers :: Development
But where did these Advocate roles come from? We can trace the history of the term back to Apple, where "software evangelist" was first coined by Mike Murray of Apple Computer's Macintosh division. It was part of Apple's strategic efforts in encouraging developers to create software applications for the Macintosh platform. The achievement of such efforts not only had a tremendous impact on Apple's overall success but also led to the notable career of then Chief Evangelist and Silicon Valley icon, Guy Kawasaki. But while Evangelists and Advocates have a shared lineage, they aren't quite the same thing.
An Advocate is focused on educating, engaging, and empowering individuals to change their attitudes and behaviors. An Evangelist has a primarily technology-specific mission. Simply put, Evangelists are one-way amplifiers while Advocates are two-way connectors. As you'll come to see below, this was specifically taken into account when designing the Advocate role at Maze.
Characteristics of all Advocates
Even across different domains and specialties, there are generally three common characteristics of an advocate:
1. Community-first mindset
A primary driver of advocate work requires an orientation towards people, including a deep understanding of human behavior and a desire to serve their community. Advocates help connect people to information and they understand that by doing so, the community has an increasing influence in shaping its own future. By socializing, educating, and empowering the group, advocates can help power communities of disruption, innovation, and advancement within their industry.
In order to provide information of value, an advocate must be an avid learner and be deeply connected to their subject matter. It requires innate curiosity and continuous learning in order to go deep within their domain, remain up to date, and keep their skills sharp. They are intrinsically passionate about their area of focus and not only share what they learn, but actively lean into learning in public. This means they seek to go beyond just personal skill acquisition and instead apply, test, and socialize their learning out in the open.
Finally, advocates must have strong listening skills. Another element of an advocate's work is listening to their community. Listening not only helps inform the work of an advocate, but also ensures there is an evolving understanding of those within the community, their challenges, feedback, and needs. This helps set up open and reliable feedback loops and creates a direct connection between the community and the advocate's company.
In summary, an Advocate role is one of intertwined learning: through personal exploratory learning on the subject matter, promoting learning within an advocate's community, and learning directly from their community.
Design Advocacy in practice
UX, or user experience design, is commonly known as a spectrum of different specialties of design. From interaction design and UX research to visual design to UX writing, those of us in UX design today are either generalists or specialists, regardless of the company. And while contemporary UX design has matured rapidly, especially within web and digital experiences, the UX profession was only officially recognized in 1995. Don Norman, famous cognitive psychologist and designer, coined the term 'user experience' to describe the broad set of design activities his team engaged in at Apple.
Since those early days, the role of design within a company has increased significantly. Companies are much more aware of the business differentiation design can bring, so much so that design-driven companies outperform S&P by 228%.
The most innovative companies in the world share one thing in common. They use design as an integrative resource to innovate more efficiently and successfully. The DMI Design Value Index has demonstrated that an unequivocal financial advantage is attributable to those that do dare to make design a priority.
Today's most forward leading companies incorporate design holistically throughout everything they do, bringing users - humans - front and center in the process.
For this reason, the Design Advocate is intentionally named. At Maze, I focus on bringing design as a holistic art + science to the questions we ask, the problems we seek to solve, and the way teams develop products to create customer and business value.
TLDR: As a Design Advocate at Maze, I apply UX design to how the larger product team works together to create user-centric products.
Why is this important?
Highly successful product teams are not just design-driven, they are design integrative and customer-centered. To be design integrative and apply design holistically, teams must work towards goals that provide positive outcomes for people, the planet, and the business.
With well-researched and design-oriented approaches, business value is assured because teams are able to discover and directly solve for customer needs. These teams see first hand that the highest yield ideas come from a rich understanding of their customers' world. For these teams, business impact is directly connected to user-centered decision-making.
The more you zoom out and see the UX profession as part of a system, the more understanding and opportunity there is to solve complex problems.
We need to look at how we improve the lives of our customers, and build all of our decisions around that. That's what it means to be design driven and customer centered. We're putting the users' needs into every decision. And to do that, we need to have strong guidance on how to make those decisions.
If we want to solve design problems and build successful products, what matters is how we, as a product team, center the user. My role as a Design Advocate is to tangibly promote the impact of design as a core capability of the business and highlight our collective responsibility and contribution to both business and human outcomes.
The construction of the Design Advocate at Maze
At an organizational level, the Design Advocate sits within the Marketing department and is embedded in the Community team by design. My primary role is to provide meaningful value to–you guessed it—the product community.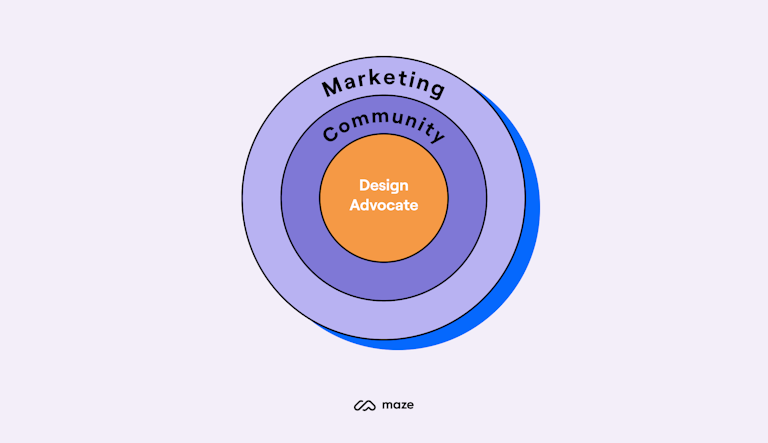 Design Advocates at Maze are part of the Community team within the Marketing Department
As a company, we're design-driven and embrace human design. The Design Advocate at Maze is another extension of being a design-led organization. It acts as a connection point between the company, Maze users, and the larger product industry. As a Design Advocate and a UX designer, I'm part of the community I serve, linking Maze to a fuller understanding of the community's challenges, needs, and desires from within it.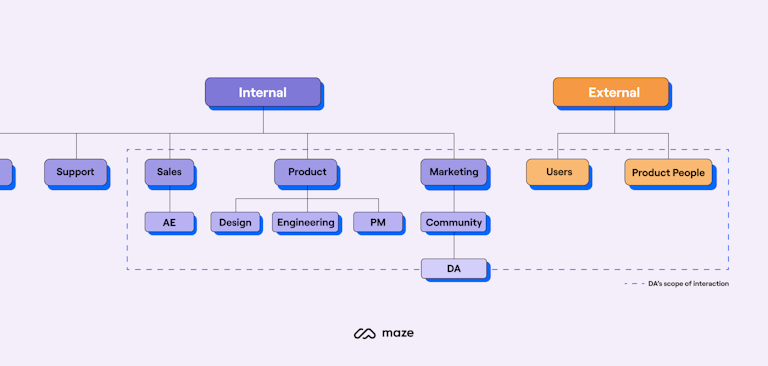 A Design Advocate is a linchpin between the external product community and key internal teams at Maze
The Design Advocate's responsibilities at Maze
When developing the scope of responsibilities for the Design Advocate, we identified three areas of focus: Community, Content, and Connection.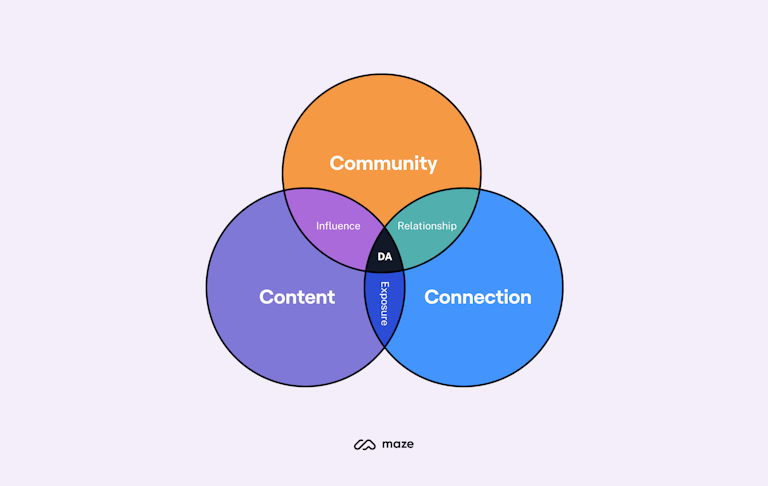 The core components of Design Advocate responsibilities
1. Community. This is a core investment for us at Maze that speaks to our vision to live in a world where experiences are shaped by the people who engage them. As a DA, I help promote and serve this vision through unique events and partner programs. By gathering a diverse group of product and design minds together, we aim to support the product community through learning opportunities that help move the industry forward.
We're on a mission to transform user testing and research, and we believe that the product community will be key to success. This is why we're investing in community-building early in our journey.

Jonathan Widawski, CEO @ Maze
2. Connection. Of the three tenants described, I believe that a Design Advocate must be a connector above all else. Connection can happen in many places and in different forms when done authentically. Examples of this are creating connections between people and ideas, synthesizing and sharing feedback from our community to the product team, or helping our users implement practices in their own team.
We knew that to build an engaged community we need someone that really understands our audience. So, we decided to bring a Design Advocate onboard.
Bozena Pieniazek, Director of Marketing @ Maze
3. Content. As a DA, I'm highly passionate about designing content that is valuable and actionable. The content component of my role refers to producing relevant resources like guides and blog articles, as well as bringing in topic experts and community leaders to discuss design ideas.
Looking ahead
At Maze, we're all about providing product teams the tools they need to test and learn rapidly. We're convinced that the key to building meaningful products is getting teams closer to the people on the other end. Investing in our community is a key step to achieving that vision and to establishing the pathway for other companies to follow suit.
As a Design Advocate, I aim to live that through my work and bring our community into everything we do at Maze. It's an intentional commitment towards ensuring the products of the future, including that of Maze, are consistently designed by and for human-centric achievement.